A FEAST FOR THE
SENSES IS CALLING
9:00 AM – 4:00 PM – WSET Level 1 Course Colorado Mountain College 
WSET Level 1 Training, Provided by the Wine Education Institute, a WSET Approved Program Provider
Kick off the weekend with a beginner level introduction to wine suitable for those starting a wine career or pursuing an interest in wine.
For individuals new to wine study, this qualification provides a hands-on introduction to the world of wine. You'll explore the wine types and styles of wine through sight, smell and taste, while also gaining the basic skills to describe wines accurately and make food and wine pairings. Upon successful completion you will receive a WSET certification and lapel pin.
There are 3 ways to participate in this experience:
All Day Course: Join for the full day class from 9am-4pm.
Online Course + Tasting: Complete the lecture online in advance and join for the classroom lecture and tasting from 12pm-4pm.
Tasting Only: Not ready for the full class? Join just for the tasting and see what's it's all about from 2pm-4pm.
---
12:30 PM – 5:00 PM – Fly Fishing Marabou Ranch 
Our most intimate experience of the weekend, enjoy an afternoon fishing on the private waters of Marabou Ranch with a professional guide.
The experience begins with a wine tasting of Italian White wines and limited release selections from the Beam Suntory portfolio at the Marabou Lodge. Participants will be outfitted by Marabou's experienced staff and enjoy two-three hours fishing on private stretches of the famous Elk River. Marabou holds a naturally diverse fishery that caters to all levels.
After fishing, participants will enjoy a Barolo tasting with Jon Schlegel of Attimo Wine Group and a charcuterie spread from Laura the Butcher of MEATBAR. The Package includes a Coravin Pivot and 2 bottles of wine.
They say a day spent on the Elk River, is not just a day of fishing, it's a day of catching.
---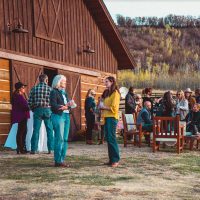 6:00 PM – Alpine Mountain Ranch Chef Dinner Alpine Mountain Ranch 
Join us for this incredible dinner in the barn at Alpine Mountain Ranch. Chef Kent Hall will be creating a traditional Agentine asado, "asado criollo", accompanied by the Argentinean wine portfolio, Piattelli.
SOLD OUT
---
7:00 PM – Yampa Valley Kitchen Chef Dinner Yampa Valley Kitchen 
More details coming soon.
SOLD OUT
---
7:00 PM – Primrose Chef Dinner Primrose 
Join Local Chef Collin Kelly at his new restaurant Primrose for a whole animal dinner.  Chef Collin will purchase a locally raised steer at the Route County 4H auction and each chef will prepare a cut of the animal to utilize for the dinner. Chef Kelly will be joined by  Tristen Epps Chef De Cuisine at Red Rooster Overtown in Miami.  SFWF dear friends Daniel and Pipa Orrison will be pairing wines from their collection at Orison for the dinner.
12:00 PM – Sherry Seminar Location TBD 
If you enjoy the occasional dirty martini, then you might want to learn about and taste Sherry. Join Rioja's Beth Gruitch in this seminar that examines the history and styles of a classic fortified wine from Andalusia Spain.
---
1:30 PM – Taste like a Pro Jace Romick Gallery 
Join Barney Treadway founder of Bitto Bistro Wine Bar for a fun and informative workshop that will demystify the world of analytical wine tasting. Unlock your palate's ability by understanding the technical methods used in identifying aromas and flavors in wine, learn how to decipher the structure of wines, and become adept at identifying a wine's flaws. Learn how to blind taste wines like a pro.
a href="https://steamboatfoodandwine.com/product/wset-taste-like-a-pro/">GET TICKETS →
---
2:00 PM – Wines of Tuscany Location TBD 
For centuries Tuscany has been known for its wine and culture. Long before Italy became a country, the city-states of Florence and Siena were dominant players throughout Europe. Explore one of the most fascinating and renowned wine-growing areas in Italy.
The workshop will investigate the history, the romance, the landscape, and the viticulture of Italy's most famous wine region. Participants will taste a variety of Tuscan wines, while learning about this magnificent region, including the famous legend of Chianti Classico and the black rooster.
---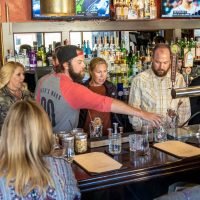 3:00 PM – The Art of the Old Fashioned Seminar – Presented by Beam Suntory Truffle Pig 
Truffle Pig Beverage Director, Mark Stanford, will examine the history and components of the classic cocktail the Old Fashioned. Participants will learn to craft Old Fashioned cocktails with Toki Japanese Whiskey, with Tesori Single Barrel select Tequila, and the Truffle Pig's famous and award winning Smoked Old Fashioned.
SOLD OUT
---
4:00 PM – Standard Gallery Wine Seminar Standard Gallery 
Join Master Sommelier Brett Zimmerman, owner of Boulder Wine Merchant, for a wine seminar in Steamboat's newest gallery/wine bar.
---
5:00 PM – Marabou Ranch Chef Dinner Marabou Ranch 
Participants will enjoy an idyllic evening on the Elk River at the River House Mountain Lodge at the Marabou Ranch. This all female dinner will be just like the women represented here – cool, sexy and badass.  From the cocktails to the food to the wine – this dinner will be crafted in full by the ladies.  But don't worry you don't have to be female to come  – everyone is invited!
---
6:00 PM – Alpine Mountain Ranch Chef Dinner Alpine Mountain Ranch 
Join James Beard nominated Chef Jeff Osaka of Osaka Ramen and Paul Reilly of Beast and Bottle for dinner in Steamboat native Jace Romick's Gallery.  The evening will start with cocktails from Steamboat Whiskey and hors d' oeuvres in the gallery before moving upstairs for this incredible collaboration dinner.
SOLD OUT
---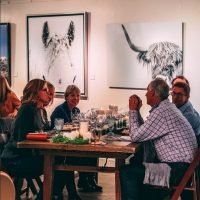 6:00 PM – Jace Romick Gallery Chef Dinner Jace Romick Gallery 
---
7:00 PM – Truffle Pig Chef Dinner Truffle Pig 
Celebrity Chef Hosea Rosenberg, Top Chef winner of Boulder's BlackBelly, along with Head Butcher Kelly Kawachi and Truffle Pig's own Chef Chris will feature Colorado lamb generously supplied by the American Lamb Board  featuring wines from Maison Domaine and cocktails featuring Roku Gin by our very own Mark Stanford.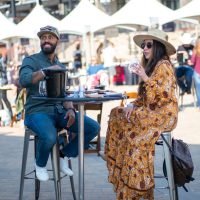 11:00 AM – 2:00 PM – Morning Grand Tasting Session Location TBD 
Our signature event, enjoy more than 60 wines, spirt experiences, beers and bites!
---
11:00 AM – The Art of the Long Lunch – Pizza & Fernet Lunch Experience Truffle Pig 
The Italians have made an art of slowing down and enjoying a long, mid-day meal. Participants will learn the joy of a leisurely Italian style lunch, starting with a spritz or two, followed by wine and a multi course lunch ending with espressos and fernet.  Lunch will end just in time for you take a riposo (nap) before heading to the afternoon grand tasting.
---
12:30 PM – Caviar Masterclass Rumor Design 
Haku Vodka martinis + caviar – more details coming soon.
---
3:00 PM – Butchery Demo and Charcuterie Tasting Location TBD 
Join Head Butcher Kelly Kawachi and Chef/Owner Hosea Rosenberg of Blackbelly (Boulder, CO) for a butchery demo and tasting of housemade charcuterie. Watch as a heritage breed half pig is broken down, while learning straight from the butcher everything you should know about shopping for the meat you eat, the best preparations and techniques for certain cuts of pork, and what goes into salumi-making… All the while, snacking on cured meats, paired with outstanding wines!
---
3:00 PM – Get Schooled in Agave Truffle Pig 
Join mixologist Mark Stanford as he discusses the history and the lineage of tequila. What is true tequila, how is it produced, how to drink it and how to buy it.
---
4:00 PM – 7:00 PM – Afternoon Grand Tasting Session Location TBD 
Our signature event, enjoy more than 60 wines, spirt experiences, beers and bites!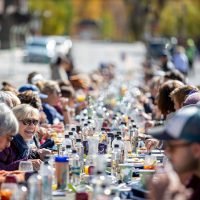 11:00 AM – BBQ, Bluegrass, Bubbles & Bloody's Brunch – Presented by Coravin Yampa Street – Downtown Steamboat
SFWF's tradition of closing the festival with a laid-back street party continues. Join your friends for a brunch that includes Haku Vodka Bloody Mary's, Kilbeggan Whiskey Irish Coffees, Basil Hayden Hot Toddy's, Angry Orchard Mimosas and seasonal beers from Sam Adams and Dog Fish.
New this year  Truffle Pig's Mark Stanford will be onsite demonstrating the in's and out's of how to make the best boozy-morning beverages. Enjoy Barbecued and Smoked Meats from the festival's participating chefs and groove to live Bluegrass Music as you wind up your weekend in a true Steamboat "Sunday-Funday" style.
Sign up for the latest festival updates!